September 16, 2019
Comments Off

on Enjoy the Last Weekend of Summer with your Pets!
Enjoy the Last Weekend of Summer with your Pets!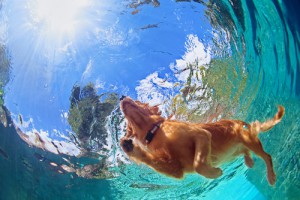 As we close out summer, we want to make sure to make the most of the last weekend. If you are looking for some fun ways to enjoy these last few summer days with your pet, here are some ideas:
Take a walk on the beach – Most beaches designate whether or not they are dog-friendly, but be sure to call ahead first. Beaches that do not allow dogs during bathing hours may be more likely to allow pets on the sand in the evening, so give a sunset or evening stroll with your pet a try. Often, night walks on the beach are better for your pet so that he or she can avoid the summer heat. If going at night, don't go alone and make sure to bring a source of light.
Go for a swim – if your dog is a swimmer, take him to a local lake or pool for a dip. When swimming in the pool, try to make sure that your dog does not swallow a lot of chlorinated water which can cause an upset stomach. Also, be careful with pools that have plastic liners since your dog's nails may rip the liner.
Go for a scenic car ride – if your pet is car comfortable, take a nice cruise along the beach or somewhere peaceful, roll the windows down, and let your dog enjoy some fresh air and new smells.
Outdoor movie night – Movies on the beach or in the park have become very popular across the country. If the venue allows pets, bring them! Just make sure that your pet will not disturb anyone else. Be considerate.
Have some backyard fun – Set up a kiddie pool for your pets, turn on the sprinklers, or even take bath time outside.
Go to a street fair or farmers' market – The summer usually is host to quite a few outdoor events. As always, check that the venue allows four-legged friends and bring your leashed pet with you. Make sure that your pet is comfortable around large groups and that you keep your pet comfortable the entire time.
Frozen Treats – make a special frozen treat (lots of recipes online) or visit your local pet store to purchase one. Many pet suppliers, and even some ice cream shops, have pet-friendly, frozen goodies for your dog or cat.
As always, please keep your pets' temperament, breed, and lifestyle in mind when planning summer activities. Be cautious of extreme heat. Your pet will need a place to cool off (like a body of water) and lots of cold water to drink if you plan to spend an extended period of time outside in the summer. Owners of dogs with long hair should be especially concerned that their pet is not overheating (consider shaving her hair down until the weather cools down). If you are planning outdoor activities, make sure that your pet is also protected against fleas, ticks, and mosquitoes! Always keep your pets hydrated, monitor her behavior closely, and if you are in doubt about a situation, sit it out!
As you prepare for the next season, make sure your pets' shots and vaccinations are up-to-date. A Pet Assure membership can save you 25% off vaccinations! Enroll to start saving right away.
The post Enjoy the Last Weekend of Summer with your Pets! appeared first on Pet Assure Blog.
Source: Blog