June 29, 2020
Comments Off

on Dogs at the Beach
Dogs at the Beach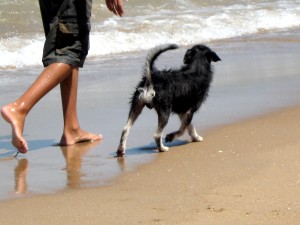 Lassie, let's hit the water! During the summertime, the crowds flock to the beaches, rivers and lakes, some with their pooches! Here are some tips on how to make a trip to cooling waters fun with your furry friend.
It is summer, which means it is time for water! As a North Carolinian, my family loves going to the beach. We also love taking our dogs with us. However, it took us a couple trips to make the beach day a smooth adventure. Here are some tips we've learned about pet safety for a safe trip to the beaches, lakes, rivers and ponds, for both you and your dog.
Doggy bowl & other supplies: Dogs, just like humans, can easily become dehydrated when playing in the sun all day. Even if you're visiting a fresh water lake or river, don't assume your pooch will easily be able to reach the water to drink. Some shorelines are steep, and access to the water for drinking would be tough. Plus, Fido might enjoy drinking water in shade. So, bring your pet's water bowl, along with lots of fresh water, if necessary. In addition, you may want to bring plastic bags for your dog's waste.
Watch for Overheating: Signs of overheating in dogs include excessive panting and drooling, vomiting and/or diarrhea, lack of coordination or collapsing, and lack of consciousness. If you are worried that your pet is overheated, get him out of the sun and provide them with fresh water. You may want to call your veterinarian or the local animal hospital.
Laws: Public swimming spots each have their own rules about dogs. One beach my family likes allows dogs to walk around without leashes, while another beach does not. Ask about the rules before you settle in on the shore.
Sunscreen: Believe it or not, dogs can get sunburned too. Dogs with short coats or light colored fur are more at risk for dog sunburn, but almost all dogs can get it on their noses. There are sunscreens made especially for dogs that can be found at your local pet store. If you have any concerns about whether or not to use sunscreen on your pet, check with your veterinarian.
Do you take your pet to the beach? What are some precautions you take? Share with us in the comment section!
The post Dogs at the Beach appeared first on Pet Assure Blog.
Source: Blog