July 27, 2020
Comments Off

on How to Find a Lost Pet
How to Find a Lost Pet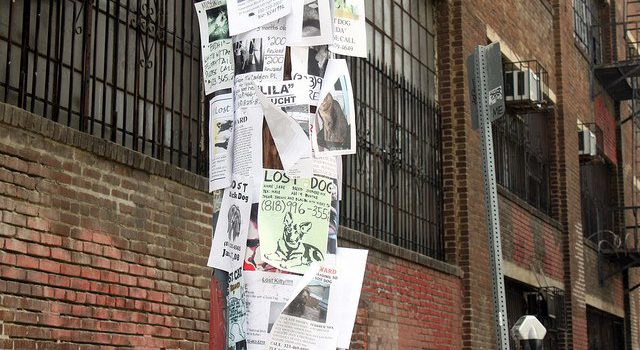 When your pet runs away, it's hard not to panic. Where do you look? Who do you call? Panic no more – we have some advice for you to follow so you can recover your pet as soon as possible.

1. Why Pets Run Away
Asking yourself why your pet may have run away is a helpful way to prevent such an incident from happening in the future. Common reasons that pets run away include:
Boredom and/or Loneliness
Curiosity– This mainly applies to situations where a door, gate or window is left open.
Mating Urges – This does not generally occur in pets that are neutered or spayed.
Panicked Response to Unexpected or Frightening Events
Unfamiliarity with a New Home or Searching for Previous Homes
For dogs in particular, the specific breed will determine how fast and far they have run. Dogs that are younger, bigger and stronger have the potential to run 5 miles or more. Smaller dogs may run up to about half of a mile.
While it is completely possible for dogs to run that far, nearly 100% of the time, dogs do not run in a single direction for an extended amount of time. Because of this, most dogs are found within a 2-mile radius of their home.
2. Tips to Finding Your Lost Pet
When we first notice that a pet is missing, our natural tendency is to panic. Panicking, however, will not be helpful when it comes to finding your pet. Take a deep breath and go through the steps listed below:
Search Your Property. Before going on a wild goose chase, you need to be positive that your pet is not simply hiding or not visible. Check every little nook and cranny of your home and yard. Try calling their name or offering them something they would want (e.g. treats, toy).

Search Your Neighborhood. Walk around your neighborhood calling your pet's name. Bring a flashlight – even if it's still light outside – to look in dark places. Talk to your neighbors to find out if they've seen your pet, and leave a phone number for them to call if they find your pet later.
Contact Your Local Animal Shelter. Most shelters will allow you to file a lost pet report and provide a recent picture of your pet. Try doing this with every shelter within a 60-mile radius of your home. If you aren't sure what shelters are local, search in Google under Search Tools and allow them to use your location if one isn't already saved.
Advertise. Let people know that your pet is lost so they can join in on the search! Most strangers have a positive response when it comes to "stray" animals. The Humane Society reported that as of 2012 62% of US households owned at least one pet. Children are also very inclined toward animals, so the likelihood of a family to assist a lost pet is high. Take a look at some ways to let others know about your lost pet:

Internet. There are several websites available that are specifically for helping you find your lost pets. These include:
Print Posters. Print "Missing Pet" posters with a picture and important information about your pet so they may be identified accurately. Also include a safe phone number or contact information so people can get in touch with you.
Up-to-Date Collars. Although this tip is more for being prepared before your pet runs away, having a collar with the correct tags and updated contact information will help others know that one: the pet has a home; and two: who to contact if the pet is lost. You can even use our Lost Pet Finder Service; that way, if you're out of town or unable to get to your phone, whoever finds your pet can call us directly and we can quickly notify you that your pet has been found. Find out more here.
3. A Word of Caution
While we want you to find your pet quickly, it is also very important to stay aware of dangerous situations. Pet recovery scams are unfortunately not unheard of. Before giving someone your address or going to a stranger's house to pick up your pet, do your best to verify that they do indeed have your lost pet. Ask them detailed questions to make sure it is your pet. Especially if the person insists on being paid for their help, it would be wise to make sure they are not a threat. Also, do not go to an unfamiliar place alone – take a buddy for support and safety!
If your pet is currently lost, we hope these tips will help you recover them as soon as possible! If not, please follow our advice and prepare well in case your pet runs away in the future.
What advice would you give on finding a lost pet? We'd love to hear from you in the comments!
The post How to Find a Lost Pet appeared first on Pet Assure Blog.
Source: Blog