October 5, 2020
Comments Off

on Halloween Costume Safety for your Pets
Halloween Costume Safety for your Pets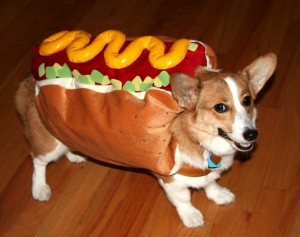 Halloween costumes for your pet can be a fun addition to your Halloween festivities for your entire family. When choosing a costume, make sure that it is safe for your pet.
Even with colder temperatures most pets do not need to wear clothes to keep warm. Limit the amount of time that your pet is wearing their costume and make sure to watch for signs of heat exhaustion. While to costume may look cute, you do not want your pet to get too warm while wearing it.
Avoid costumes with loose dangly fabric. Ribbons and long pieces of string can be particularly harmful to cats because they like to play and chew them. For dogs, anything that your pet can chew off and swallow should be avoided. If ingestion occurs, take your pet to the vet immediately because it could lead to a serious medical condition that requires emergency surgery.
Lastly, make sure that when your pet is wearing their costume they are always supervised. If your pet is going to be left alone, remove the costume to avoid injury.
Use these helpful tips to ensure you have a fun, safe Halloween with your family and pets!
Do you have any fun costume ideas for your pets? Let us know in the comments section!
The post Halloween Costume Safety for your Pets appeared first on Pet Assure Blog.
Source: Blog