November 30, 2020
Comments Off

on How to Know if Your Pet Needs Winter Gear
How to Know if Your Pet Needs Winter Gear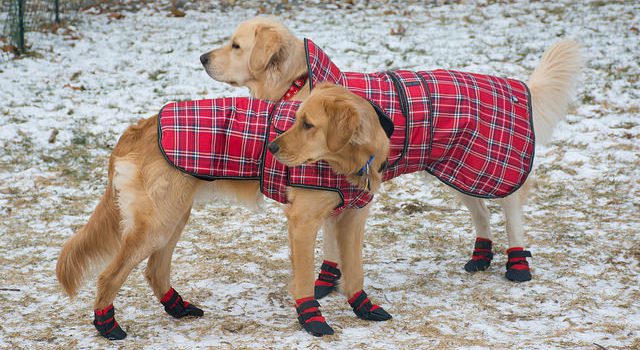 Some animals need a little bit more help to stay warm during the winter, but not all animals.
Most of the time, the pets that I see wearing coats and such in the wintertime are dogs. I've even seen doggie booties! A lot of the times I wonder to myself, "…Is that even necessary?" Well, for some pooches, it is! A lot of factors go into whether or not your canine needs to be put in winter gear to keep warm.

Does your pet need winter gear?
Air temperature and wind are two of the most important factors to consider. One sure sign it's time to invest in winter clothing is if your pet is shivering and shaking in the cold. Time for a coat! But even in extreme weather, some pets are fine.
Consider these factors when deciding if an extra layer is a good idea:
Type of coat: Dogs with thick coats of fur will usually not need any additional help in the winter. However, canines with short coats of fur may need some help.
Age: Puppies and senior pooches are the age groups most likely to need some gear for the cold months.
"Bulk": If you have rescued an animal that is really thin, you might need to invest in some clothing for the first winter. Also, some breeds are naturally thin and get cold very easily. These include Greyhounds and Whippets.
Overall health: My Chocolate Labrador, Joy, has had pneumonia twice. Therefore, we try to keep her warmer during the winter so she does not get sick again. This goes for all animals that have had various health problems.
Weather conditions: Dry, cold weather is very different from freezing rain, sleet and snow. However, you do not necessarily need to invest in booties. Just try to wipe off your pet's feet every time he/she comes in from being outside during those icky conditions—especially if he has walked on salt or anti-freeze chemicals.
Indoor vs. outdoor: One dog that absolutely loves snow and being outside in the winter: Huskies! Animals like this that remain outdoors for the most part typically have coats of fur for that kind of weather and don't need anything besides a shelter. All outdoor pets need a shelter though, with something extra to keep them warm, like hay or a blanket.
Where do you get pet winter gear?
Before you invest in a lot of clothing for your pet, ask your veterinarian for advice. A blanket, hay or sturdy shelter might be all he needs. If your pet needs more, try local pet shops and department stores.
Does your animal wear any winter clothing—or do you have one who's fine without it? If so, leave us a comment—or send us a picture—and share with us how he fares in the cold weather!
The post How to Know if Your Pet Needs Winter Gear appeared first on Pet Assure Blog.
Source: Blog