December 14, 2020
Comments Off

on Putting Together a Pet Emergency Pack
Putting Together a Pet Emergency Pack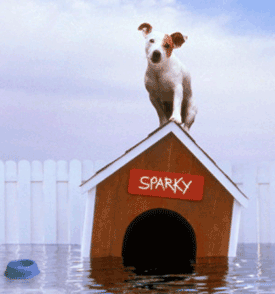 If a disaster strikes, are you prepared? Disasters can happen anywhere at any time. The public doesn't usually get a lot of notice before a disaster strikes, so you must be prepared in advance and know what to do quickly if there is an emergency. One thing people often forget when preparing for an emergency or disaster is their family pet. A cat owner or a dog owner, one pet or multiple pets, this list should help you get an idea of just how prepared you are and point you in the right direction if you are not. Prepare NOW so you don`t have to worry later!

Putting Together a Pet Emergency Pack:
Make sure your pets I.D. tags are current. If they need to be updated, replace them now and discard the old tags. It is also a good idea to have an extra set in case one gets damaged or lost.
Update your pet's immunization cards. List all current immunizations and the dates received. Make sure you have dated proof of rabies shots and any other shots required by your local authorities.
Make a list of your pets medications, including dosage and special instructions for administering them to your pet. If you use syringes, include enough to last at least a week. Disasters may make it difficult to get medical supplies your pet needs.
Have your pet first aid kit ready so that you simply need to grab it in the event you must evacuate your home quickly. Pack all needed medical supplies, bandages and a spare leash.
Stock up on emergency food and water supplies.
Pack at least two travel bowls – one for food and one for water.
Get a flashing collar/ID tag to find your pet quickly. This may seem ridiculous, but in the event your pet becomes separated from you at night or in poor visibility, you will be grateful you invested in this type of collar.
Pack a picture of your pets in case you get separated. Along with a current picture, include your pet's name (and any nicknames he answers to), age, color, and special markings on his fur that will distinguish him from another dog of the same breed.
Get a safety harness and leash, even if your pet does not normally use one. During a disaster or emergency, you will need to be able to keep track of and control your pet when he may be frantic and stressed.
Know your pet's hiding places in and out of the house. Make a list of these places and keep it in your Pet Emergency Pack, so that others will quickly have access to this information if you are unavailable.
Develop a pet buddy system. Pets, unlike service animals, may not be allowed in emergency shelters. Talk to your family, friends and neighbors. Plan how you will help each other in an emergency, and possible temporary care for your pet.
Designate out-of-state and a local friends or relatives as contacts. A contact can be used by family members or others to call if you are separated from each other. Identify a location where you can reunite.
Place Rescue Pet Decals on your windows and doors to alert rescue teams to save your pets inside the house.
Important Pet Care Numbers in an Emergency:
National Animal Poison Control Center Hotline: (888) 426-4435 (24/7/365)
American Animal Hospital Associations (AAHA): (800) 883-6301
American Humane Association (AHA): (800) 227-4645
American Society for the Prevention of Cruelty to Animals (ASPCA): (212) 876-7700
American Veterinary Medical Association (AVMA): (847) 925-8070
Emergency Animal Rescue Service (EARS): (800) 440-EARS
Humane Society of the United States (HSUS): (202) 452-1100
Help Me Find My Pet: (866) 699-FIND (3463)
Pet Finders (PetFinder.com): (800) 666-5678
The post Putting Together a Pet Emergency Pack appeared first on Pet Assure Blog.
Source: Blog